Rules For Over Sized Garbage Disposal! Things To Know Before Moving!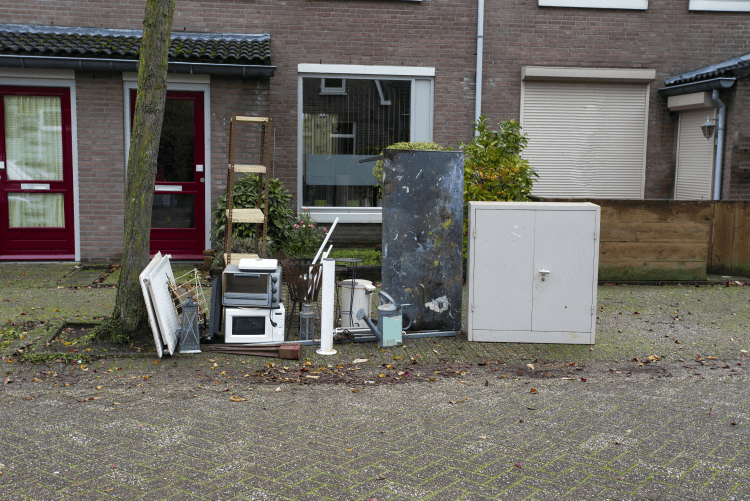 Before throwing away large, oversized garbage, here are some tips for YOU to make a good decision on the timing of disposal. So, when you want to move OR must move due to your work, you might be wondering on how to dispose of the "Oversized Garbage" There are few ways to throw away your oversized garbage and we are going to show you all the WAYS!!! 
There Must Be A Lot of "Garbage" In The House
Cleaning The House On A Daily Base
Don't Have A lot of Stuff
Throwing Away Garbage Every Week
EVEN THOUGH you have practiced the ways above, people are always having trouble with garbage. Even when you move, when you buy a piece of new furniture, when the electrical appliances break down, you NEVER know when the time will come.
Okay, let's start breaking it down and explain how the "Oversized Garbage Disposal" work in Japan.
4 Ways To Throw Away Your "Oversized Garbage"
When you want to dispose of oversized garbage, it is not easy to throw it away "Immediately", so you must know when, where, and how you want your garbage to be thrown away.
Here are your options for throwing your oversized garbage away.
Municipality
One way to get rid of your oversized garbage is to let the municipality collect it for you.
It is "possible" to throw away the oversized garbage today OR tomorrow, but it is said that the "oversized garbage cannot be thrown away immediately". In other words, you can take it to the garbage disposal center in the municipality where you live to throw it away immediately.
However, if you do not own a car, if it doesn't fit your car, if it's too heavy, OR don't have many ways to take the garbage to the disposal, it is going to be too much work if you try to do it alone.
THE MOST IMPORTANT thing to be careful about is the "oversized garbage disposal ticket", it is a very important sticker you must put on the garbage you want to be collected.
The price will be DIFFERENT depending on what you throw away and the size of the garbage, so we SUGGEST you write down the garbage that you want to throw away in advance before you contact the municipality.
IF you have any questions, we recommend you contact the "Bulky Waste Reception Center". Here you can check whether the collectors will come collect your garbage in your area, check for prices, etc. https://sodai.tokyokankyo.or.jp/Sodai/V2Index/0/1
Merits
You don't have to worry about any ILLEGAL activity since it's the government. 
They will collect your garbage and dispose of it correctly.
Easy
Demerits
the time is decided and it's usually, until 9 a.m. even in the collection of oversized garbage.
It'll take at least 1 week to get your oversized garbage collected.
Cautions
Keep in mind that the COLLECTOR MIGHT NOT TAKE your garbage if you do not ask where the collector is going to pick the garbage. (PLEASE MAKE SURE TO ASK THE PICKUP LOCATION. In Front of Your House OR At The Garbage Collection.)
Moving Company
IF you have oversized garbage, you can ask the moving company to collect it for you during the move. The advantage is that you can use it in the house before moving until the day of moving, and you can let them collect it according to the move, so you don't have to throw it out OR go somewhere to throw it away.
Also, there will be no need to take the garbage outside by yourself, the movers will do EVERYTHING for you.
OFTEN TIMES, the service will be free unless the garbage is too big OR if there is more garbage than the furniture you are going to take with you.
クロネコヤマト(Kuroneko Yamato Moving Company)
Kuroneko Yamato provides a pick-up and purchase service at the time of moving. Home appliances such as refrigerators and washing machines are purchased within 6 years of manufacture, and furniture is also purchased within 6 years of purchase. They also purchase miscellaneous goods.
However, some home appliances cannot be purchased, such as carpets and mattresses, such as air conditioners and brown tube TVs, so check the website in advance.
アップル引っ越しセンター(Apple Moving Center)
Apple Moving Center also provides pick-up and purchase services for disposal goods. Depending on the goods, they buy it, collect it for free, OR they will charge you. If it is a piece of furniture OR home appliances, there is almost nothing that cannot be collected they say, so those who want to reduce the time and effort after moving should try to use this service.
Please ask questions about the moving company you're planning to use, for further concerns.
Merits
They will collect most of your oversized garbage for free due to your move. 
You can use the stuff you want to get rid of, until your moving day.
You don't need to buy any "oversized garbage disposal ticket".
Demerits
You need to let the moving company know what you want to dispose of when you apply for your move. 
They MIGHT not dispose of depending on what you want to throw away
There are days and seasons when the moving company will not take any oversized garbage.
Disposal Collection Company
Let's go ahead and look at another option!
Especially, for busy people, it'll be useful to use a disposal collection company because of flexible time and the company usually will come straight away when you call them. (Except the busy season!)
There is a case where the disposal collection company has a cheaper price set. For example: If you ask one of the collection companies in your area, they might charge you more or give you a hard time since they are probably ILLEGAL.
Some disposal collection companies have relationships with companies that are doing "Oversea Exports". That way, the price is much cheaper than other collectors OR your municipality garbage collectors.
Try contacting a few Disposal Collection Company if you have any concerns!
Merits
Flexible Time 
Cheap Price (Some Companies)
They Collect Oversized Garbage That Others Don't (E.g. Refrigerator, Washing Machine, Vaults, etc.)
Demerits
There are A LOT of disposal collection companies that are ILLEGAL and going around the neighborhood WITHOUT any permission. 
They MIGHT not take what you want to throw away.
Cautions
Some companies, or many disposal company collectors are working ILLEGALLY. They charge you a great amount of money to collect your garbage and dump it somewhere randomly.
SELL Your "Oversized Garbage"
If you want to SELL your oversized garbage at a high price, going to a specialty store is the best. General stores will take anything, but the prices aren't going to be that high.
These are some examples of what can be sold!
Washing Machine
Air Conditioning
Wardrobe
Television
Refrigerator
If you have any questions, we SUGGEST you contact the stores directly so you can get an accurate answer.
Here are few Recycling Stores you might want to check out!
Merits
You can make money with stuff you don't need anymore
You MIGHT make a fortune depending on what you sell
Cautions
They MIGHT not buy your oversized garbage, so we SUGGEST you contact the stores before you take it. You can also apply through the web site so that might be a better way of checking if your oversized garbage is sellable.
OVERSIZED GARBAGE CAN BE DIFFICULT
The most common way to dispose of your oversized garbage is to have the local government collect it as "Oversized Garbage". Rates vary depending on the local government, so MAKE SURE you check the rates from the website of your local government.
As a general way to take out the oversized garbage, the local government purchases a seal of the oversized garbage fee in several places designated by the municipality and applies for the collection of oversized garbage from the website.
If you take out large garbage with a seal on the day of collection, the local government's recovery person will collect it. In many cases, bringing oversized garbage to a collection center is A LOT CHEAPER than asking for collection. If you can arrange cars OR trucks, you can save even more if you bring them into the center yourself.
When you are planning to throw the oversized garbage away on the timing of your move, perhaps the BEST WAY is to let the moving company collect all the oversized garbage!
※PLEASE BE NOTED※
We SUGGEST you for throwing away the oversized garbage properly, because it may get you in trouble OR even worse.
GOOD LUCK!!!
Go to page top